If you have damp and mould problems within your home, tell us about it, we will investigate and treat the problem.
A well ventilated home, free from mould and condensation is a healthy home. Read our advice below to help you identify if there is a problem in your property.
Read more about the types of damp and mould below and if you think this is a problem in your home click below to order a repair.
For further advice on saving energy, contact the Energy Saving Trust on 0300 123 1234 or visit www.energysavingtrust.org.uk
You can also contact our very own Energy Advisor, Naila can arrange to come and visit you in your home armed with tips on saving energy and money on your bills. 
Get Energy Advice | Manchester City Council Housing Services - Manchester City Council Housing (mcchousingservices.co.uk)
Causes and types of dampness
Not all types of damp are caused by the build-up of condensation…
This is the most common cause of damp in the household, and comes from moisture in the air.
Did you know…
Drying clothes indoors can add 10–15 litres of water a week into your home
Showering, cooking and bathing can add 15–20 litres of water a week into your home
The breathing of a family of four adds moisture into the air equivalent to 30–40 litres of water each week
Caused by leaking pipes, wastes and overflows. Or by rain getting through holes in roofs, spilling from a blocked gutter or leaks through cracked pipes. Penetrating damp will show as a damp patch on the walls or paint may be peeling off.
Caused by faulty damp course. Rising damp could lead to a white salt like substance appearing up to a metre above ground level. Both these types of damp leave 'tidemarks'.
Defects in guttering and pipes, cracked rendering, leaking water pipes, waste pipes and overflows.
How to recognise damp and mould
Over time, dampness leaves 'tidemarks' on the walls or furniture, caused once the moisture build-up has dried. Other forms of dampness such as rising damp and leaks also leave clear tidemarks.
If condensation is allowed to happen on a regular basis, mould can form, usually appearing on the inside of external north-facing walls, and getting worse in cold weather.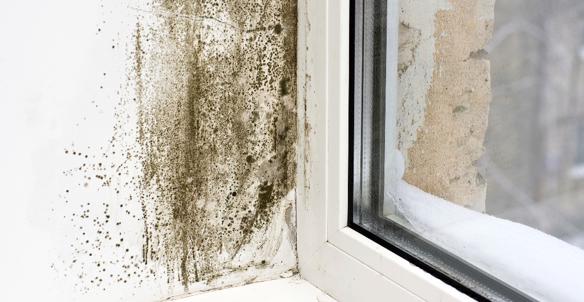 Keep free from damp and mould
If damp is being caused by penetrating dampness, rising damp or defective plumbing, you should order a repair to tackle the cause of the problem.
If you do not think the damp comes from any of these causes, it is probably condensation.
Condensation
There's always some moisture in the air, even if you can't see it. If the air gets colder, it can't hold all the moisture and tiny droplets of water appear. This is condensation.
Condensation is mostly a problem in cold weather. It appears on cold surfaces and in places where there is little air movement - in corners, on or near windows, in or behind wardrobes and cupboards. It is made worse by inadequate ventilation, insulation and heating.
It is common to find black mould on this type of dampness.
Reduce condensation
Cover pans and open windows during and after cooking.
Dry clothes outdoors where possible or in a room with the door closed and the windows open.
Use the bathroom extractor fan during and after washing or showering.
Have the vent of your tumble dryer outside.
Keep the property well heated.
In cold weather, keep low background heat on all day.
Open windows regularly to ventilate the property.
See if you can get help with the rising cost of energy bills or if the Council is able to help you financially.
If you have followed the above advice, but still have problems with mould, contact us and we will come and assess your home.